Blog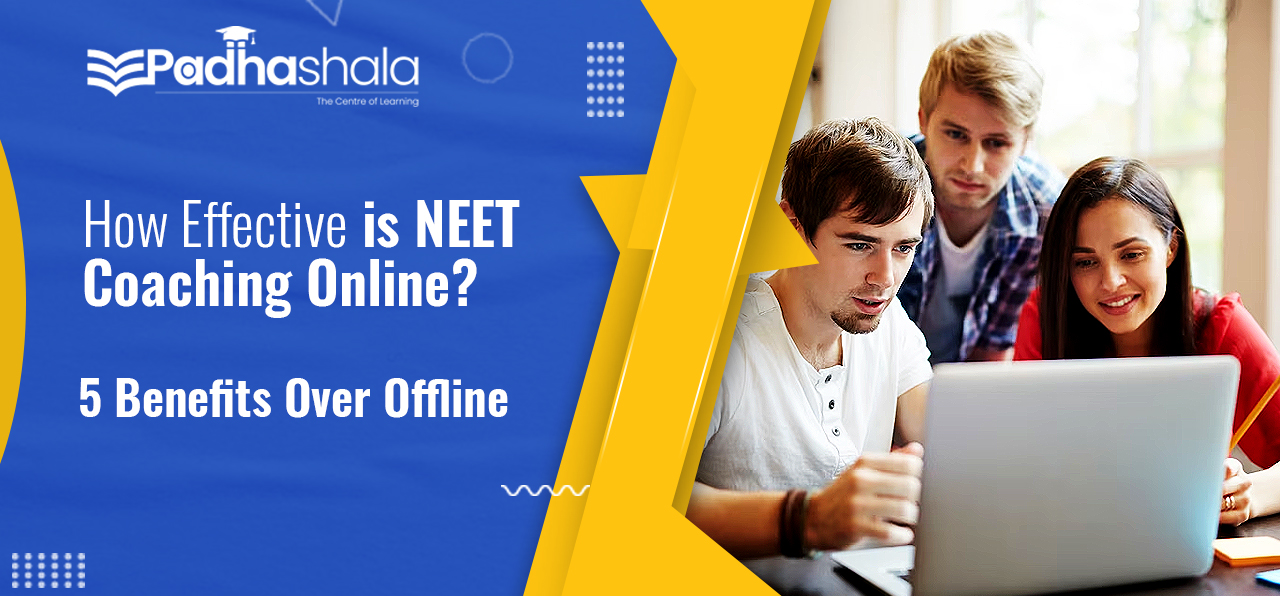 NEET or National Eligibility Entrance Test is one of the most competitive examinations in India that is attended by students pursuing a career in medicine. In order to crack the exam, effective prep for NEET is required along with tons of hard work. As seeking NEET coaching becomes even more necessary, students are showing a preference for Online classes over Offline ones. In this article, we will explore five benefits of online NEET Coaching.
Flexibility and Convenience
Online classes for Neet provide students with unparalleled flexibility and convenience. The schedule of students has become quite cluttered. They have to manage between studies, extracurricular activities, and other activities. Thus, they may find a hard time committing to offline classes. However, their prep for NEET is also necessary. Online classes eliminate this hurdle by allowing students to access their study materials anywhere and at any time. This flexibility enables students to study at their own pace and prepare accordingly to ace their upcoming exams.
Expert Faculty from across the Nation
One of the significant advantages of online classes for NEET is the opportunity to learn from expert faculty members across the nation. Unlike offline coaching centers that have limited resources in terms of experienced teachers, online teaching can bring the best minds together. They can collectively train students to improve their academic results. Students can avail of courses at Padhashala where they can get access to live classes or recorded lectures from renowned faculty members with vast knowledge. Such exposure to top-notch faculty can significantly enhance the quality of education while also boosting the chances of success in exams.
Comprehensive study materials
Prep for NEET requires a strong foundation in the core subjects of Science those being Physics, Chemistry, and Biology. Online coaching platforms like Padhashala offer comprehensive study materials that cover all essential segments in a structured manner. The study materials have been carefully crafted by experienced teachers who understand the requirements of the NEET exam. Online platforms also tend to provide a wide range of practice tests and mock exams which allows students to assess their weak points and improve upon them.
Personalized Learning and Doubt Clearing
Every student has unique learning needs and areas which they find to be difficult. Online NEET coaching centers recognize this and offer personalized learning experiences. Via the use of interactive platforms, students can ask questions for clearing their doubts while also engaging in discussions with other faculty members or students. Such personalized attention ensures that the doubts of students are cleared promptly and their needs for effective mentoring are met thoroughly. For students who are in dire need of one-on-one mentoring, such sessions are provided by online classes rather than offline ones where students are taught collectively. It has also been shown that due to peer pressure, students in offline classes hesitate to ask about their doubts. This is a prime reason why the online platform is found to be supreme over the offline one.
Cost-Effective and Time Efficient
Online classes for NEET are proven to be highly effective in a number of ways. The Cost-effective nature of online classes makes it a viable choice for aspiring medical students from a lower income household. While being cost-effective the net advantages provided by online classes simply outweigh those found in offline ones. Online classes are also quite time efficient, completely eliminating the need for traveling and helping save precious time. This time can be utilized for important tasks like preparation for exams.
Thus as we have seen above, the effectiveness of online classes for helping students prepare for NEET is simply outmatched by offline ones. As the digital age progresses, it is time that parents learn the benefits of online learning and embrace platforms like Padhashala. These platforms can help ensure that your child receives the best education possible and improves his/her academic result within a short period of time.